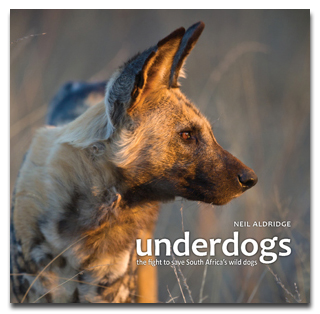 Underdogs
the fight to save South Africa's wild dogs
By Neil Aldridge
ISBN: 978-1-874357-49-0
Binding: Stitch-bound hardback
Pages: 156
Publisher: Pisces Publications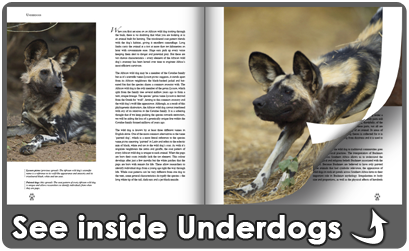 Description:
Three years in the making, Underdogs celebrates what is special about the African wild dog by introducing the ecology of the species and looking at what makes it one of Africa's most efficient carnivores. The book also explores the reasons behind the decline of the wild dog and champions the efforts being made to secure a future for the species in South Africa and beyond.
Acute senses, a lightweight body, unrivalled stamina and power in numbers may make the wild dog an adept hunter but these remarkable characteristics saw the species fare badly with the arrival of big game hunters in Africa in the late 1800s. This charismatic carnivore has been an underdog in its fight to find its place in a developing continent ever since.
With a donation from sales going towards vital wild dog conservation, Underdogs aims to make a real difference to the future of this endangered species.
Read more on the Underdogs page...